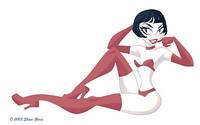 In 1993 I was a huge fan of Ren & Stimpy. I wrote a fan letter to the studio expressing my admiration. I included a few copies of my own drawings and asked if they could send me some copies of their sketches.
A short time later I received a call from Vincent Waller, a director at Spumco (and one of the coolest guys in the world). He said that they liked my drawings, and within a few minutes I was speaking to Spumco president John Kricfalusi.
John was my hero. I mentioned to John that I had had been watching the Chuck Jones cartoon "Dog Gone South" , and John launched into a perfect imitation of the plantation owner: "BELVEDERE! COME HEAH BOY!"
I was not only speaking to the voice of Ren Hoek, but the world greatest cartoonist.
John suggested that I come to L.A. and study at the studio for a month- an offer I couldn't refuse- so I left Oregon and rented an apartment in Burbank and went in to the studio every day for a month.
I studied animation under Elinor Blake and tried to soak up as much inspiration as I could. During that one month, I was exposed to art that would change my life, including Mel Crawford, Rod Scribner, Owen Fitzgerald, The Provensen's, Kirk Douglas, Robert Ryan, not to mention the great artists working at the studio: Vincent Waller, Jim Smith, Mike Fontanelli, Richard Pursell, Elinor Blake and Craig Kelly.
At the end of my month, John called me into his office and offered to hire me full time. So I went back to Oregon, packed my stuff and moved to L.A.. I worked at Spumco for about a year and a half, doing mostly clean-up and inking on various Spumco products, including 5 issues of the COMIC BOOK. I learned a lot while at Spumco, by watching the other artists, exploring the library, and eating strange sausages and cheeses while watching old cartoons and movies at John's house.
In 1995, John was forced to lay off his staff, and I moved back to Oregon.
Later that Summer John flew me out to the San Diego Comic Convention. Through chance I happened to bump into Bruce Timm, the producer of the groundbreaking Batman animated series. I had recently become a huge fan of his work after seeing his Mad Love Graphic Novel and was hoping I would meet him at the convention. I showed him my sketchbook and he seemed to see something in my drawings (it must have been my enthusiam, because looking back on those drawings now, they are incredibly crude & amatrurish). We spoke briefly, I flew back to Oregon and within a week received a call from Bruce offering me a position on the new Superman series which was just starting production.
So, back to L.A. again.
Working for Bruce on Superman, and later Batman, Batman Beyond, and Justice League was one of the greatest experiences of my life. I made great friends and became a much better artist. Getting a "Wow!" from Bruce Timm or "That's cool!" from Glen Murakami was a definite incentive to keep drawing trying new and different things to get that response (and the drawing-for-a-drawing trade deal I had with B.T. kept me very productive.)
In the summer of 1999 I left L.A. and moved back to my home town of Eugene, Oregon, where I continued to work long-distance for the W.B., as well as freelancing for other animation studios including Cartoon Network, Disney and Nelvana.
In 2004 I made a promise to myself to not take on any more commercial assignments. Cartoonretro opened in the Summer of 2004.