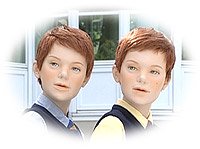 Welcome back to the world of the Fuccon Family, aka Oh Mikey!, a bizarre and amazing "mannequin drama" that has taken Japan by storm. Based on a popular independent film, OH! Mikey is the bizarre and hilarious story of the Fuccon family, who have come from America to live in Japan, despite the fact that they are mannequins.
e image above is from a strange Japanese comedy called OH! Mikey. It's about the Fuccon (fuck-on?) family, an American family that moves to Japan, and it's made entirely with mannequins. I haven't seen it yet, but it looks totally bizarre. J-List sells the DVDs, which have English subtitles, but at US$40 a pop for a single 30-minute DVD, it's a pretty steep price, especially when you consider that there are six volumes.
A fantastic and hilarious parody of foreigners living in Japan, this DVD is subtitled in English, so you can enjoy the wacky adventures of Mikey, his mother Barbara, handsome father James, cousin Laura, Mikey's girlfriend Emily and all the rest of their wacky crew. Adventures include Emily's Birthday, Dad's Youth, Fake Emily, Mikey in a Box, and more. Highly recommended for everyone who wants to laugh! Playing time is 37 minutes, zoned for region 2. Great for collectors of Japanese films on DVD!
http://www.fuccon.com/main.html
http://www.jlist.com/SEARCH/oh!%20mikey/1/
http://www.vpn-tv.net/english/index.html
Played
entirely by mannequins (!), the American Fuccon family has moved to
Japan and will all live "like the Japanese." Their faces permanently
grafted with plastic smiles, Dad, Mom, and little Mikey repeat
themselves and laugh through any situation, from marital disputes to
demon possession. Kyupi Kyupi member Yoshimasa Ishibashi originally
created these surreal vignettes for his latenight Japanese TV show
"Vermillion Pleasure Night." THE FUCCON FAMILY's absurd, black humor and
scathing caricature of Western values delighted and confused audiences
at its US premiere in the New Directors/New Films festival in New York
last Spring. VERMILLION PLEASURE NIGHT (2000/01). More shorts from
Ishibashi's mindbending TV show! In DR. PHERO, nurses stick large
needles of green fluid into the butts of girls trapped inside boxes,
their screams and moans timed to the beat of music! Also includes the
shorts SIX SINGING GIRLS and MARATHON. KYUPI KYUPI (1999).