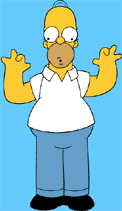 No sé si conocéis esta serie, pero ahora que van a hacer la película seguro que oís hablar de ella. Está bastante bien, os la recomiendo.
De ICV2.
Simpsons Film Confirmed
TV Series Will Continue
July 26, 2004
During the Simpsons panel at San Diego's Comic Con International, executive producer and longtime Simpsons contributor Al Jean announced the news that many fans have been waiting for: "There will be a movie," putting enough "English" on the word "will" to leave no doubt among the faithful that they will be able to see the yellow-hued denizens of Springfield on the big screen. Jean did not provide a release date, saying only that the show's producers were taking the time to get it right.